Craig Biddle and I wrote this essay, "Liberty: What Is It? Why Is It Good? On What Does It Depend?," as a pamphlet for Students for Liberty to distribute at LibertyCon and other conferences. It's a brief introduction to Ayn Rand's views on liberty and how they differ from conventional views.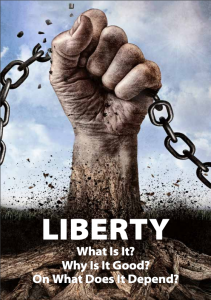 If you've not yet read it, take a look. It's designed to ignite thought and conversation about one of the most important issues of the day: the source and nature of rights. If you're looking for enlightening discussion or argument, you might print copies and hand them out at Thanksgiving.
You can access a PDF of the pamphlet at SFL's website or The Objective Standard's website.
I hope you enjoy the essay. Let me know what you think.